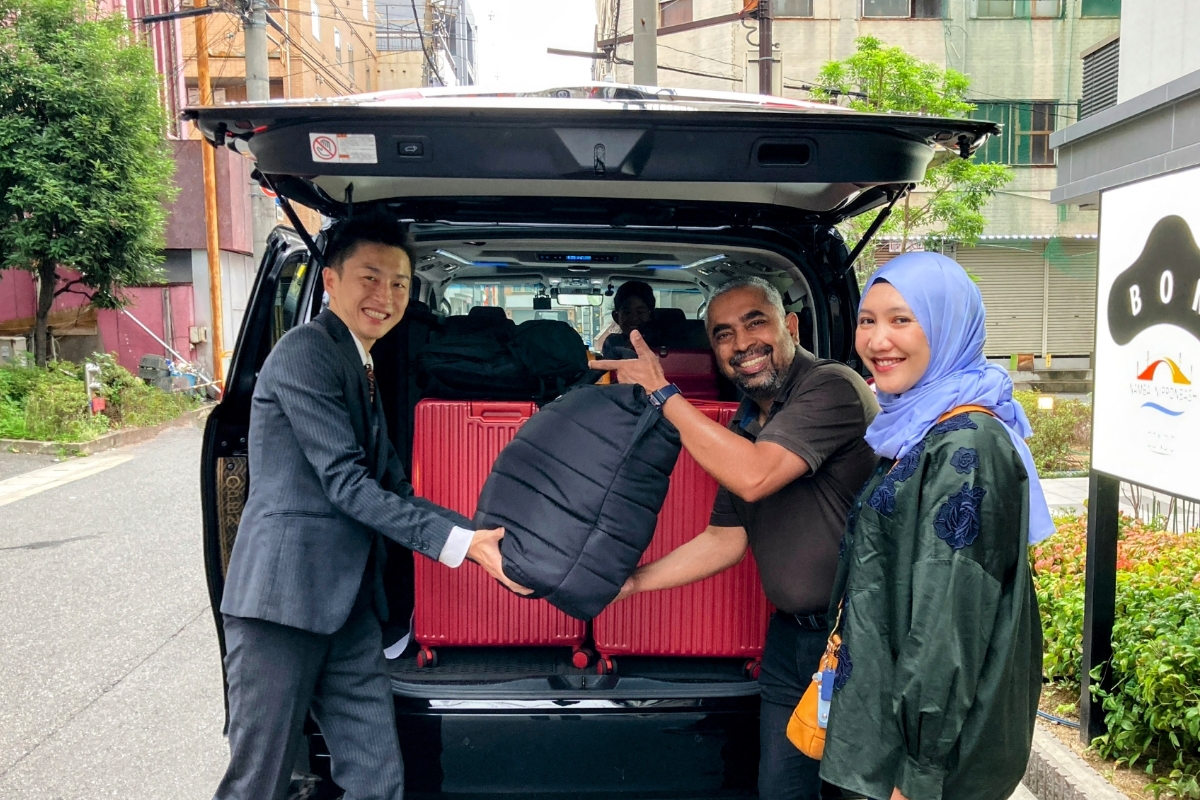 PRIVATE TRANSFER
TO AIRPORT
Not only airport pickups but also private transfer to airport (airport drop-offs) are one of our main services. We offer private transfer from various hotels and locations in Kansai area to airports in Osaka.
Available airports for Airport Transfer (Drop-Off)
Our main service airport is Kansai International Airport. We provide private transfer to airport from hotels and residences in various cities within the Kansai region, such as Osaka, Kyoto, Nara, and Hyogo(Kobe).
In addition to Kansai International Airport, we may also offer private transfer services to Itami Airport. For more details, please check service pages.
Flow of Airport Transfer (Drop-Off)
From Application To The Day Before Service
1,Check for vehicle availability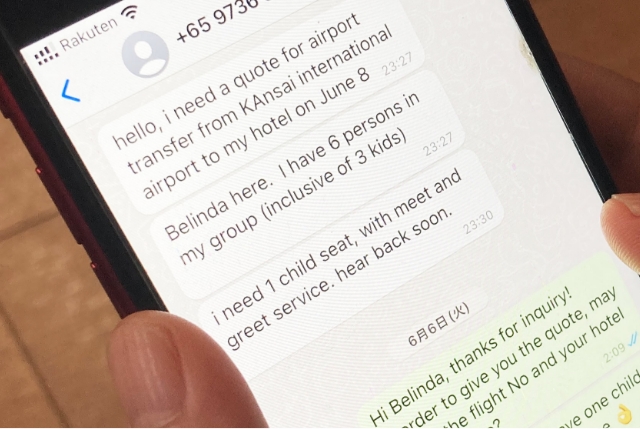 Provide your preferred dates and itinerary via email or chat tool such as WhatsApp, and our staff will check the availability of vehicles and drivers for you.
2,Apply for the service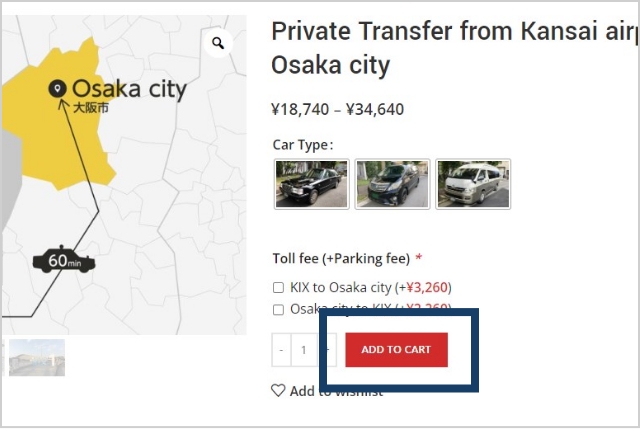 Proceed with the purchase of the desired transfer service and payment through the detailed page. We offer a pre-online payment system, so there is no need to prepare cash or cards on the day of the service.
3,Check the confirmation document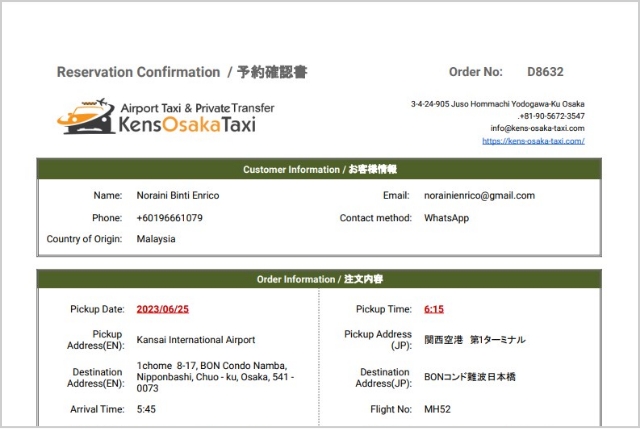 We will send you the booking confirmation document the day after your application. If for any reason we are unable to accommodate your reservation, we will inform you at this stage (rest assured that we will provide a 100% refund).
4,Pre-Arrival contact from support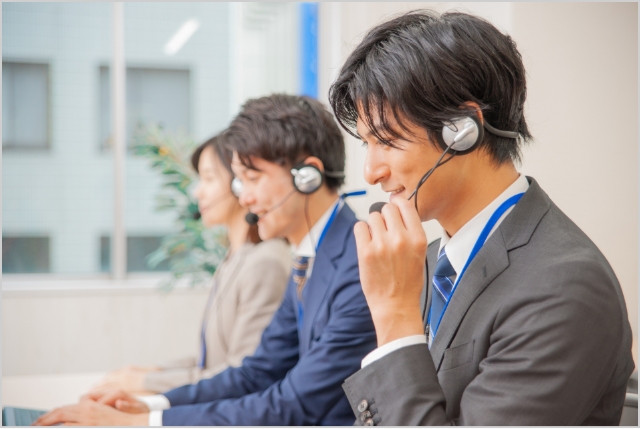 Our support team will contact you the day before your pick-up to confirm your reservation. If you have any changes or requests, please let us know during this contact.
The Service Day
1,Wait for the driver's pick up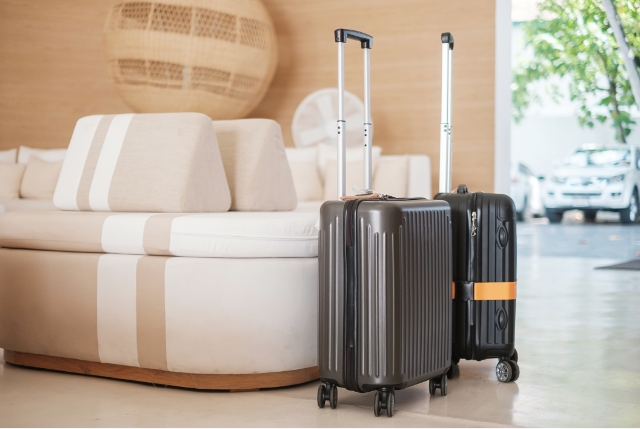 Please wait until the scheduled time for the driver to arrive.
In the case of hotels, the driver will inform the front desk staff about their arrival.
2,Head to the airport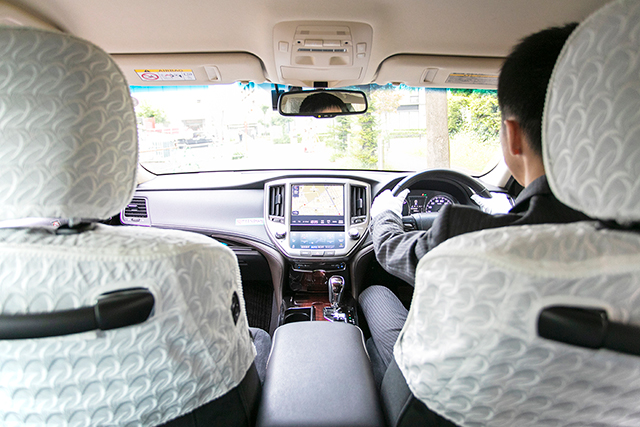 We aim to offer stress-free transportation to your destination.
For more information, please check our feature page
4,Arrive at the airport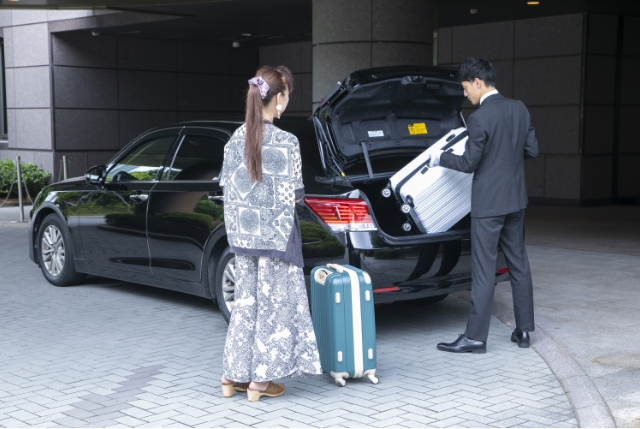 Upon arriving at the airport, the driver will unload your luggage.
As payment has been made in advance, there is no need for any payment inside the vehicle. Have a safe and pleasant flight!
Chat Support in English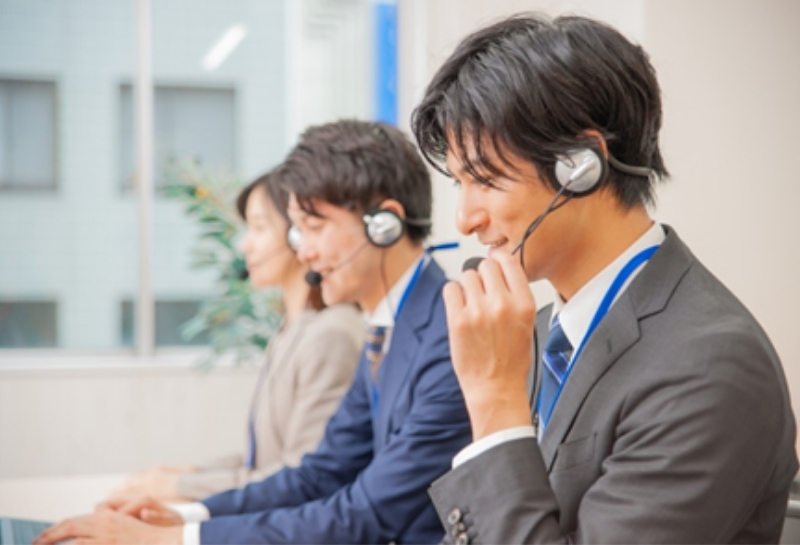 In addition to all these services, we also provide English chat support. From the moment you make a reservation until the end of the transfer service, we offer assistance through chat tools like WhatsApp, ensuring a seamless and reassuring experience for you.
FAQ about Airport Drop-Off
How far in advance should I set the pickup time before the departure time of the flight?
Typically, it takes approximately 1 hour from Osaka city center to Kansai International Airport, and around 1.5 hours from Kyoto city center. It is desirable to arrive at the airport approximately 2.5 hours before the departure time. Based on this information, it is recommended to schedule the pickup time from Osaka city center to Kansai Airport 3.5 hours before the departure time, and from Kyoto city center to Kansai Airport 4 hours before the departure time.
Is it possible to come and pick me up from two different hotels?
Yes, it is possible. If the two hotels are within 2km of each other, we can provide pickups from both locations for an additional flat fee of 2,000 JPY. For pickups from two locations that are more than 2km apart, a separate estimate will be provided.
Is it possible to come and pick me up from a private house?
Yes, it is possible. We often provide private transfer to airport (Drop Off) from private houses in addition to hotels. Our drivers are all from the Kansai region, so they have detailed knowledge of the roads and can go to any location in the Kansai area for pickups.